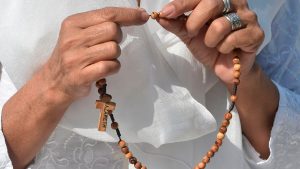 Annual Global Rosary Relay for the sanctification of Priests takes place on Friday 11th June,
the Feast of the Sacred Heart of Jesus. Ennis Cathedral is one of 2,600 venues throughout
the whole world invited to Pray the Rosary. Bishop Fintan and Fr. Joy will lead the Rosary
from the Cathedral at 2.30pm on Friday. With the coming of midnight on 11th June 2021
the entire world will by then have been encircled yet again in prayer on this Worldpriest
Annual Rosary Relay Day. You are welcome to join in person or online by the parish radio
to pray with Bishop Fintan and Fr. Joy.