Ash Wednesday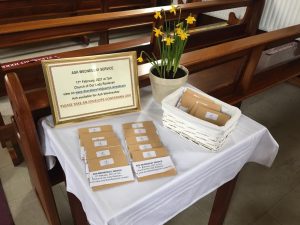 Wednesday 17th February, a day of fast and abstinence. This year with Level 5 restrictions in place it will not be possible to distribute ashes in the traditional way of placing them on your forehead.
Blessed Ashes  are available for collection  in the porches of our churches from this Saturday 13th.
The ashes are in brown envelopes and we ask you to place the ashes in a container,
add some water before placing them with a sign of the cross on your forehead.
Packets of ashes are limited so we ask you to take only one packet per household.
Ash Wednesday Service from Church of Our Lady, Roslevan at 7pm on Ash Wednesday.
Please join us on parish webcam: www.doorabarefieldparish.ie/webcam