EASTER VIGIL MASS –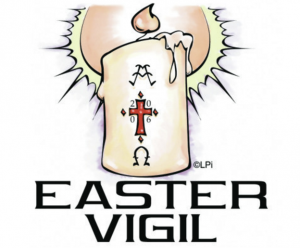 BEFORE THE BROADCAST BEGINS:
• Gather with other members of your household, if you can.
• On a table or in the sacred space, place an unlit candle in the centre with an individual candle beside it for each person who has gathered. People might like to use their own baptism candle if they have it. Include a Bible, if you have one and a bowl of water and a small branch of greenery.
• This year's vigil will start with the lighting of the Easter candle and the three fold acclamation: The Light of Christ. When this is completed light your centre candle and invite people to take up their (baptism) candle, light it and hold it for the Exsultet, the Easter proclamation.
• Listen closely to the words of the Exsultet. Having moved from darkness to light, its words and music are used to praise and thank God for what the light represents: God's saving activity throughout human history, culminating in Christ's defeat of death and resurrection from the dead.
• As the Readings begin, place your candles on the table beside the Bible. In these readings you will hear of God's care for us in the acts of creation as well as the saving events of the Exodus and throughout the history of God's people, culminating in the resurrection account. St Paul reminds us that we share in Christ's death and resurrection through our baptism.
• While at this year's vigil we sadly cannot celebrate baptisms, we can still renew our baptismal promises. As these promises are led by the priest, take up your candle and renew the promises made for you in baptism – this is our faith, the faith of the Church and we are proud to profess it.
• After you renew these promises you may wish to take the bowl of water and make a sign of the cross upon yourself with the water or, using
a small branch of greenery, sprinkle those gathered with water as
a reminder of our baptism.
• As you make your Act of Spiritual Communion take time to thank God for the gift of your baptism and for the gift of hope your baptism brings to your life.
• At the end of this celebration, take your main candle and place it safely in the window of your home as a beacon of Easter hope to the world.