Triduum of Prayer to St. Joseph at the Cathedral, Ennis
The Sleeping St. Joseph
We welcome you to pray with us for three days this week on Thursday, Friday & Saturday as we celebrate St. Joseph.
On Friday 19th March we celebrate the Feast of St. Joseph and this year Pope Francis has declared it the year of St. Joseph.
Pope Francis has a great devotion to St. Joseph and has a statue of a sleeping St. Joseph on his desk for decades. During the world meeting of families in the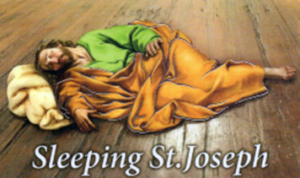 Philippines in 2015, he shared his love for the saint.
The basis of this devotion is Matthew's Gospel where he tells of four dreams in which Joseph is visited by an angel of the Lord and receives specific instruction and warnings of impending danger. All four dreams relate to the nativity of Jesus and his early life."Even when he is asleep, he is taking care of the church!. Yes! We know that he can do that . So when I have a problem, a difficulty, I write a little note and I put it underneath St. Joseph, so that he can dream about it!. In other words, I tell him pray for the problem"
The triduum will take place at 7.30pm mass on Thursday & Friday and at the 11am mass on Saturday. You can listen online and the parish radio. A triduum of prayer sheet will be available in the Cathedral and can be downloaded on the Parish Website.
The parish office has a limited supply of sleeping St. Joseph Statues for sale.