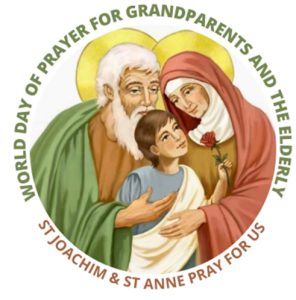 World Day of Prayer  for Grandparents & the Elderly  –  Sunday 25th July.
 Pope Francis has designated this Sunday as the first every Church wide celebration for           Grandparents and the Elderly. Tomorrow Monday 26th July we celebrate the Feast of SS. Joachim & Anne, parents of Mary and the grandparents of  Jesus.
This universal day of prayer is a reminder to all our elderly that they are loved, blessed and needed.
Many of our Grandparents and elderly have suffered greatly during the pandemic due to being   isolated from family. Grandparents and the elderly are needed now more than ever not just as teachers of the faith but as foundations of wisdom and common sense, qualities which our world needs these days.
Today is a day of joy and hope for all of us in celebrating and giving thanks for our grandparents and the elderly.
'I am with you always'. Pope Francis
Theme for the very first World Day for Grandparents & the Elderly.