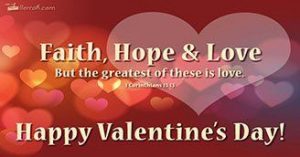 Loving Father, I pray for an open heart and mind,
so that I may recognise and be grateful for all the love in my life.
I pray that I might find a new sense of wholeness,
joy and peace in your love.
Remove all obstacles so that I may grow in love throughout my life.
Give me the grace to trust in your loving plan for me,
so that whatever my circumstances over the
course of my life,
I may know that I am not alone,
that I am loved by You, my loving Father
who is full of tenderness,
mercy and compassion. Amen.
Happy St. Valentine's Day