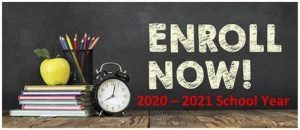 Knockanean National School will commence accepting applications for Junior Infants for the coming school year on  8th January 2021. Application forms  can be obtained by contacting Madge at school office on 065 6840088 or by sending an email to [email protected] requesting an application form. Closing date for completed application forms is 2.40 p.m. on January  29th 2021.
Barefield National School is now accepting enrolment of new pupils for September 2021.  Closing date for receipt of Applications is Friday, February 5th  , 2021.  If you require an Application/Registration Form please contact the school via email  [email protected] with your name, address and contact number. Also for your information, Applications Forms and Admission Policy can be downloaded from our website: http://barefieldns.com/documents/enrolment.
Doora NS is now accepting applications for enrolment of Junior Infants for the school year 2021/2022. Please email [email protected] if you require an application form. The closing date for applications is: 19/02/2021.